I feel like super poop for taking so long to post. And I feel like poop for complaining about it too, so I'll just leave it at that.
On to happier things :) :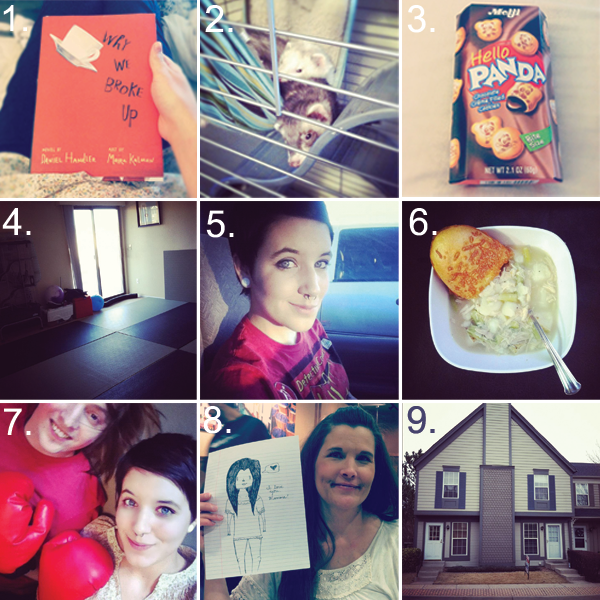 1. I discovered, spent an arm and a leg on, and read entirely this book: Why We Broke Up written by Daniel Handler a.k.a. Lemony Snicket :P and Illustrated by Maira Kalman. It's wonderful. It encompassed so much of my feelings at the high school age, has beautiful illustrations every chapter, and is written in the same style as my brain thinks. Totally wonderful.
2. We played with the ferrets for a while and tuckered them out. Came back a while later and found them snuggling in the hammock :DD *eternal ferret adoration*
3. Found the tastiest snack ever ever.
4. We got Calvin's karate room set up downstairs! It's right next to my beautiful spare bedroom/craft room thing so we can be close while still doin our own thing sometimes. Plus I find it really fun to play in too :P
5. I just started having to do teeny tiny little pigtails in my hair because it's growing out into a baby mullet XD And yes, I'm gonna grow it a little while again. Probably keep it around shoulder length this time. I like to mix it up :)
6. Made the awesomest soup ever. We really enjoy soup around here :P This one is organic potato, green beans, and rotisserie chicken with cheesy bread. So yummy!
7. Broke in the new karate room with a little his and her's boxing match on Saturday :D
8. My lovely Momma with a picture I drew of my lovely Momma! <3
9. We looked at this house for sale last weekend as well! Like, set up a time with a realtor, discussed lending options legitly looked at it. Adult status yo. And isn't she dreamy?? The scallops are to die for! *fingers crossed*
So, that was my week. How was yours lovely people? Missed ya'll!
All the best,
Grace Elizabeth.