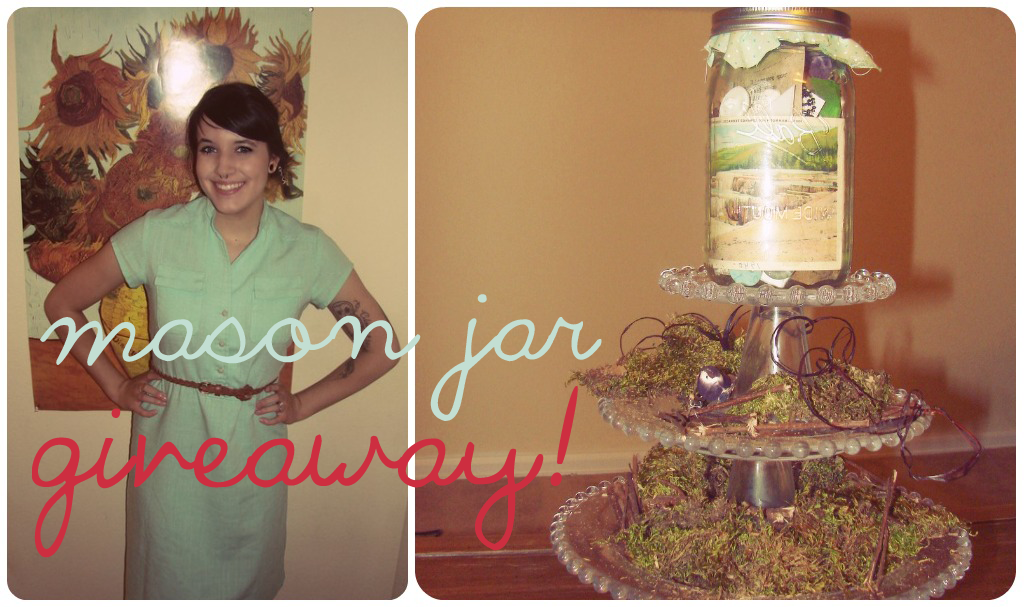 Well my lovely readers, the time has finally come! You can now officially enter to win this
"Do you remember as a kid that shoebox, or jar, or windowsill that you
lined up your most prized possessions?
Your figurines and dirty river stones and lucky items of the marble, penny, and rock variety?
This is a way to get that back.
This Treasure Jar has been lovingly collected and created,
wished into and compiled with the greatest care.
It holds envelopes of secret notes, glass vials, river stones and your sisters earrings
(you borrowed a few weeks ago but forgot to give back.)
The tickets you won from the carnival last summer.
The letter from your best friend.
I wanted to create something that let you know how wonderful and treasured
I wanted you to remember what we knew as kids,
but have forgotten as adults."
Leave a comment below telling me your favorite childhood item
as well as your email adress. :)
To get extra votes:
Follow Mason Jar Memories then s
pread the word about this giveaway through your own blog or facebook page and leave proof in a seperate comment.
Entries close 11:59pm Tuesday the 6th of September (Mountain time)
A winner will be announced next Wednesday the 7th!
Also, in these pictures I am wearing my new/old dress just purchased from
Vintch
.
I completely love it. She was such a sweet seller, and has an amazing heartfelt blog as well!
I styled it to look a little like the blue dress Skeeter wears in the movie The Help, haha.
And yes, I was rocking the jedi braid ^__^